It's OK to Ask - Public messaging campaign from NHS Scotland
News | 31 August 2021
NHS Scotland have launched a public campaign to support patients and health and care professionals to have positive conversations about care and treatment.
The key message of the campaign is that it's okay to ask questions of health and care professionals. NHS Scotland have suggested four key questions for patients to ask:
What are the benefits of my treatment?
What are the the risks of my treatment?
Are there any alternative treatments I can try?
What if I do nothing?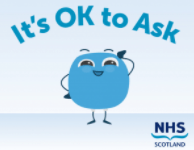 We know that when patients have a better understanding of their health, and of the treatment and care options that are available to them, they can make more informed decisions about the care that is right for them. It is also very important that professionals support and promote conversations that encourage shared decision making.
For further information about the campaign, including a range of resources for both patients and professionals, please visit NHS Inform.
The "It's OK to Ask" campaign was developed and piloted by NHS24, and received support from the Realistic Medicine Value Improvement Fund.