Taking ALISS to the next level - the single source of truth for communities
Blog | 13 June 2023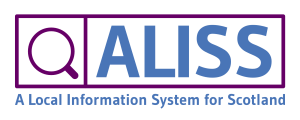 What is ALISS?
ALISS  – A Local Information System for Scotland – is a national digital programme enabling people and professionals to find and share information on resources, services, groups, and support in their local communities and online.
ALISS's aim is to ensure that everyone in Scotland has the right information, at the right time, about resources that are available to help them live well and stay connected to their community.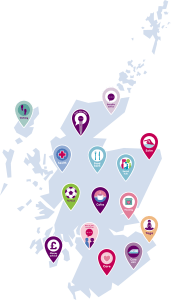 Using ALISS
Resources you can find on ALISS are added and edited by people living and working in communities. This means that if you cannot find the service you are looking for, you can add it to the system by creating an account.
Developments on ALISS
Over the past two years, the ALISS team have been working towards four strategic objectives: more data, better data, better experience and more users.  So, if you have visited ALISS before, you will notice that much has changed of late.
More data
Since the lifting of pandemic restrictions, staff have been travelling to a range of communities across the country to promote and train people in the use of ALISS.
The ALISS programme has secured funding from Innovate UK (UKRI) to instigate a number of developments on ALISS.  Notable amongst these is a proposed proof-of-concept project of intelligent data aggregation.  There are many local directories of service in operation across Scotland.  This project seeks to integrate them with ALISS, seeking a 'single source of truth' for citizens.
Better data
Quality of data on ALISS is vital, and staff have been working on manually cleansing the data held.  This has seen hundreds of entries either updated or deleted from the system.  This ensures that people searching ALISS can have greater confidence in the search results it produces.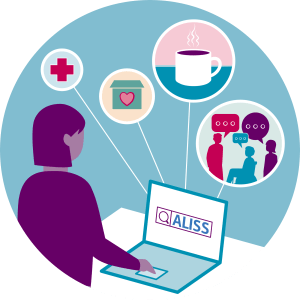 Over the coming months, the ALISS team will be implementing enhanced data governance processes.  This will include automatic prompts for users to update their information.
Better experience
User research on accessibility has been published.  Recommendations based on people affected by sensory loss are now being implemented.
More users
With a view to attracting new and returning users to the site, ALISS had a rebrand and site refresh in July 2022.
ALISS data could already be accessed on NHS Inform Scotland's Service Directory More access points have recently been added, including Mydex and social prescribing platforms.
One of the most exciting recent developments has been the launch of an Alexa app for ALISS.  By issuing the command, "Alexa, enable My Scottish Community", users can use their voice to search on ALISS.
Further information
ALISS is funded by the Scottish Government and is operated by the Health and Social Care Alliance Scotland (the ALLIANCE). ALISS is coproduced with people and professionals in Scotland's communities and values local and national resources as the key to living well.
For more information, please contact hello@aliss.org.