What Matters To You? day 2022
Blog | 8 June 2022
Scotland's Chief Nursing Officer, Alex McMahon talks about What Matters to You? day 2022.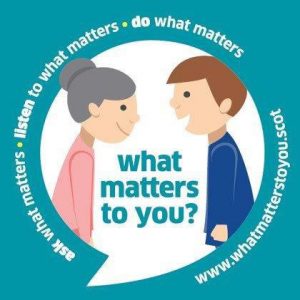 We are once again celebrating What Matters To You? day with our colleagues throughout Scotland and from around the world.
"What matters to you?" is a simple question that can have a big impact on care. It helps to ensure that the care you give is in line with patient preferences and is person-centred.
A compassionate therapeutic relationship helps people experience less pain, less anxiety and this can help wounds to heal more quickly. Additionally, care providers experience higher rates of job satisfaction and lower rates of emotional burn out.
The 'What Matters To You?' conversation describes an approach that supports staff to understand what's important to the people they are caring for and supporting and establishes a caring compassionate connection.
It is based on the principle that listening carefully to what matters to each person helps us to provide the care and support that people really need and want. It also recognises that listening is in itself a powerful intervention.
In line with the principles of Realistic Medicine, our ambition is that conversations about what matters become a core part of how health and care services are delivered across Scotland, every day.
The refreshed What Matters To You.scot website has lots more information about why asking "What matters to you?" is so important, as well as resources and useful videos which you can use on What Matters To You? day 2022 #WMTY2022.
And the What Matters to You? world website has a information about how your colleagues in the rest of the world are having this conversation and providing person-centred care.